New groov 2.2: Better Trends, Colors, New Button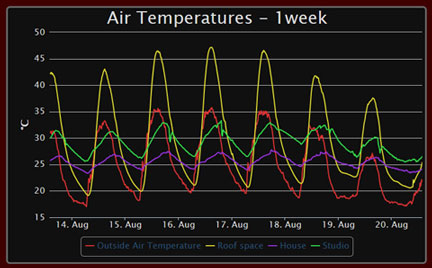 groov 2.2 is now released! It's a free update and it includes new and improved features you'll want to have, like these.
Improvements to trends
Track more data with up to 4 pens
Track data longer—up to 7 days
See data on 2 axes
Choose longer scan rates if you need them
New dark backgrounds up to black
When you change background colors, gadgets automatically change color as needed to remain visible.
New gadget: Momentary Button
This new gadget works just like a normally open/normally closed pushbutton: it sends one value when pushed and another value when released. Handy for tasks such as jogging a drive feed or panning an IP camera.
New Stash area
Want to show a gadget on PCs and tablets, but hide it on smartphones? Just drag it to the Stash in the Handheld view. It won't appear on the small screen but will still be there on bigger screens.
Need to save a gadget you're working on but not ready to roll out? Stash it! It'll be saved but not visible to your users.
These are just a few of the changes in groov 2.2. There are lots more. See what else is included here in the Readme file.
Update your groov now!
Go to manage.groov.com and log in.
In the Details column for your groov, click Show.
For a groov Box, click the groov App R2.2 file. For groov Server, click the groov Server R2.2 file.
Save the file to your computer.
Install the update. For help, see "Updating groov" in the groov User's Guide.
Or watch an update video: Update groov App for your groov Box or Update groov App for your groov Server