What is groov?
groov gives you the visualization, data handling, and connectivity tools you need for your Internet of Things project
Securely move data. Monitor & control sensors, systems, and equipment.
Visualize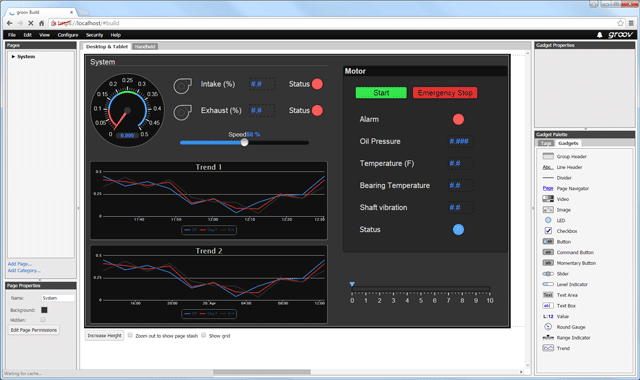 Build your groov operator interface
Browser-based software makes it easy to build your unique operator interface.
Runs in your web browser—Firefox, Chrome, Edge, IE 11, Safari
No extra software to install; no plugins
Connect to Modbus/TCP devices, databases, online services, software APIs, Opto 22 PACs, and OPC-UA equipment & servers
Drag and drop from a built-in library of gadgets, then tag the gadgets
Set user permissions and security
Configure real-time trends up to 5 years
Log events and notify technicians via email or text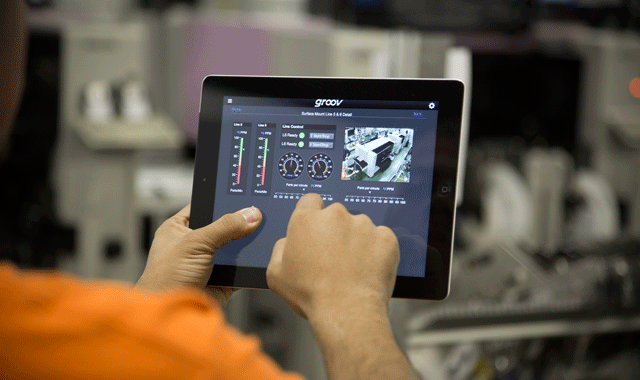 View your interface
Your users can securely view the interface you built from just about any computer or mobile device.
Browser-based viewing for smartphones, tablets, laptops, computers (even web-enabled HDTVs)
Free groov View app for iOS and Android
View interface pages and data as authorized
Monitor and control your system or equipment from anywhere
Receive event notifications via email or text
No keys; no user fees
No user or device limits
Handle Data

Build simple logic flows easily with Node-RED
Manipulate, move, and add value to your data using open-source Node-RED software.
Included in your groov Box
Enjoy the convenient built-in Node-RED Admin with editor, project backups, software updates, and more
Leverage hundreds of pre-built nodes for devices, software, APIs, online services
Wire nodes together to massage data and move it where you need it
Use SNAP PAC and groov nodes to connect with Opto 22 equipment
Connect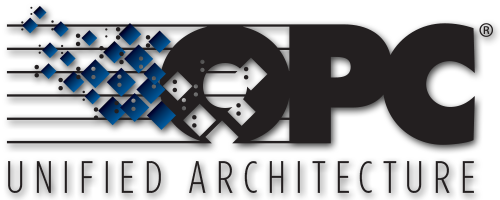 Use OPC UA and MQTT/Sparkplug
Ignition Edge® in the groov Box, together with a groov Enterprise license, give you the IoT connectivity you need.
Ignition Edge internal OPC-UA server and drivers connect to Allen-Bradley®, Siemens®, Modbus® over TCP, and more
Configure up to 500 OPC-UA tags in the Edge database
Utilize MQTT protocol with Sparkplug messaging to simplify IoT communications
Monitor and control PLC systems in your groov operator interface
Use OPC-UA tag data in your Node-RED flows
groov is:
All logos and product names used herein are trademarks or registered trademarks of their respective companies or organizations.
How will you use groov?
See groov now on your mobile device.