Suddenly, visualizing data is simple.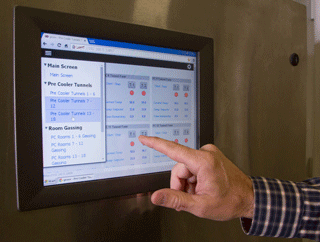 Just 2 requirements and 4 steps, and you have an HMI.
2 requirements:
groov
any computer with a web browser (like Chrome, Firefox, Safari, or Microsoft Edge)
No plugins; no software to install.
4 steps:
Open a web browser and type the name or IP address of your groov as the URL.
In groov Build, add the device you want to monitor or control.
Drag and drop gadgets—indicators or controls—onto the screen.
Tag the gadgets and save.
No programming; no coding. No tag or user limits.
Give your users what they need to see
From pumps and processes, to production data, to the weather, your world is full of things you need to view, monitor, or control. With browser-based groov View, you can easily build an operator interface to see and interact with exactly what you need.
Show data from sensors and automation systems, cloud applications, databases, web services, and more. Put the data and controls from different sources together in the way that makes sense for your application and your users. 
An uncluttered interface
Put a full-fledged HMI on a small screen, and you won't be able to use it.
But put in just the data and controls you really need to use, and you'll wonder how you ever got along without it.
Because you develop the interface yourself, your HMI includes only what you need—and everything you need.
Start small. It's easy to add another indicator or control if you find you want it.
Keep it simple. If your interface is used on computers or web-enabled TVs and on phones, choose which gadgets to show on each.
Include what's important. Mix data and controls from any manufacturer or software maker on the same page, as needed.
Give your authorized users access only to screens they should see. An operator may need to control part of a process, while a manager may only need production data.
Updates are simple, too
It's even easier to change your operator interface, anytime you want. Save your changes and then just have users refresh their screens.
No user or device keys
No reinstallations
Pretty much instant gratification
"I love the way that I can change screens and it gets pushed to all the devices as soon as they refresh."
– Dan Berghorst, Facilities manager, Schipper Eggs (Michigan)
Data handling
Move data where you need it, using secure, standard Internet and IT-compatible tools and protocols. More on data handling.
Connectivity
Manage Modbus/TCP devices, data from databases & APIs, Opto 22 SNAP PACs, and OPC UA systems and equipment. More on connectivity.