Browser or app?
Why not both?
With the free groov View apps, the mobile operator interface you build runs natively on your Apple or Android smartphone or tablet.
(If you have another mobile brand, just use your web browser to see the same interface.)
Download the free groov app from your mobile store:
For more info, see the Setting Up groov Mobile Apps Technical Note.
Why use the app?
It's convenient. You can set it to automatically connect to a groov interface as soon as you open the app.
The interface fills the whole screen, so you get more screen real estate and fewer distractions.
It's familiar because it's designed for your mobile device.
You can lock settings or require a passcode to change a groov connection.
Perfect for a machine HMI: on iOS, you can use Guided Access mode to lock down the device so the only thing it can do is show your groov interface.
And it's free.
See the groov demo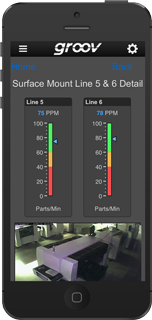 Want to see how the app looks? Check out the groov demo.
Download the free app:
Open the app.
In groov, click the plus sign in the upper left.
Enter the URL of the groov demo: https://demo.groov.com
Add a Display Name if you wish (like groov demo).
Make sure the Port says 443.
Enter username trial and password opto22
Tap the Done button (upper right).
To see the demo, tap its name in the list and tap Connect.
For more about using the app, see the Setting Up groov Mobile Apps Technical Note.
How does it work?
If you're wondering how the same operator interface can appear in both a web browser and an app, it's thanks to the open standards like HTML5 that groov is based on. The app just puts a brand-specific wrapper around your groov interface.