groov Box appliance or groov Server for Windows?
Which one is for you?

groov Box appliance
—plug this
tough little Box
into your network and you're ready for the Internet of Things. Included:
groov
View for visualization and Node-RED for easy development of secure IIoT projects. Add a
groov
Enterprise license and you have OPC-UA drivers and MQTT/Sparkplug, built in.

groov Server for Windows
—Install this small-footprint software on a
compatible Windows computer
on your network, and
groov
 View software is served from there. Easily build and view your own custom operator interfaces.
Compare
| | | |
| --- | --- | --- |
| | | |
| Included features | groov Box | groov Server for Windows |
| groov View (to build and view an operator interface) | Yes | Yes |
| groov Admin (to configure networks, security, Node-RED, Ignition Edge) | Yes | No |
| Node-RED (to develop IIoT projects) | Yes | No |
| Ignition Edge (for OPC UA and MQTT/Sparkplug – requires groov Enterprise license) | Yes | No |
| Browser-based mobile interface creation | Yes | Yes |
| Requires browser plugins | No | No |
| Interface deployed via URL | Yes | Yes |
| Interface usable on multiple device brands & sizes | Yes | Yes |
| Security: HTTPS/TLS encryption plus authentication | Yes | Yes |
| Self-signed or Certificate Authority certificates | Yes | Yes |
| Drag-and-drop gadget library | Yes | Yes |
| Users and groups for security | Yes | Yes |
| Real-time trending up to 5 years | Yes | Yes |
| Event logging | Yes | Yes |
| Email and text notifications | Yes | Yes |
| Industrially hardened device | Yes | Depends on computer |
| Two independent Ethernet NICs | Yes | Depends on computer |
| Runs on Windows | No | Yes |
| IP address format | IPV4 | IPV4/IPV6 |
Which one should I choose?
Choose the groov Box if: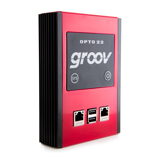 You want IIoT software and security built in.
You need an industrially hardened unit for this job. (See Specifications.)
You don't want to put a Windows computer on your network  (or don't have one that's compatible with groov Server).
You want to easily use Node-RED for an IIoT project.
You want to plug in an appliance and be ready to roll.
Choose groov Server if:
You're a machine builder or OEM, you already have a compatible Windows PC in your machine, and you need an HMI.
Your IT Department doesn't want you to put any hardware on your network, but they're OK with using a Windows server.
You already use a Windows-based HMI and want to add groov View to that PC.
You're using a SoftPAC software-based controller or other PC-based control and want to add groov View to the same PC.
Still not sure?
Talk to one of our experienced engineers. They'll be glad to help. Pre-sales engineering help is free.
Phone: 800-321-6786 (toll-free in the U.S. and Canada) or 951-695-3000
Email: systemseng@opto22.com
PC compatibility requirements for groov Server  (.NET Framework 3.5 or greater is required):
Windows 10, 8, or 7 Professional (32-bit and 64-bit)
Windows Server 2008 R2 or Windows Server 2012 or 2012 R2