Hannover Messe 2017 – Hannover, Germany
Hannover Messe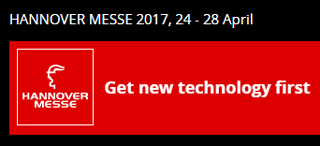 , the world's leading industrial conference with over 6500 international exhibitors, will be held 24-28 April 2017 in Hannover, Germany.
Join us there for a look at the present and the future of automation:
Industry trends
New technologies
Factory & process automation
Integrated energy
Mobility
Industrie 4.0 applications
And much more
Opto 22 is co-exhibiting with Dell EMC and Intel in the Digital Factory located in Hall 8, Stand F31, showcasing Industrial Internet of Things (IIoT) technologies and products you can use today.  Come see our guaranteed-for-life SNAP I/O and reliable industrial controllers with a secure HTTPS server and RESTful API. Learn how our groov Server for Windows running on a Dell server can make it easy to visualize your data anywhere, on any device.  Discuss your ideas for IIoT applications and ways real data could help you in your business.
Get information and register to attend.
CSIA Executive Conference 2017 – Fort Lauderdale, Florida
As a member of the Control System Integrators Association, Opto 22 is pleased to participate in the annual CSIA Executive Conference. This year's event returns to Fort Lauderdale, May 2-5, 2017, where the expo will showcase the most recent advances in control system integration, along with over 60 industry suppliers, manufacturers and service providers. Take advantage of the opportunity to meet with all these representatives to learn about the latest products and technologies, and see how several integrators have benefited from CSIA membership.
Once again, look for Opto 22's IoT wind turbine demo in the Partner Industry Expo. Stop by our booth to meet with our technical staff who can help answer your questions on PACs, mobile solutions, Internet of Things applications and much more.
Review the conference agenda and learn how to register to attend.
The Automation Conference & Expo – Chicago, Illinois

Opto 22 is returning to Chicago in May for The Automation Conference 2017.  Save the date and join us May 23 – 24, 2017.  This annual event is for professionals in manufacturing and packaging, including automation and control engineers, software engineers, as well as manufacturing systems/IT and networking managers. The two day conference features workshops and presentations covering cybersecurity, the Industrial Internet of Things (IIoT), MQTT, IT/OT convergence, as well as system and device interoperability.
Visit our booth to see the IIoT-enabled wind turbine demo and discuss IIoT solutions for your automation applications. Matt Newton, Opto 22's Director of Technical Marketing, will be leading two technical workshop sessions about "Rapid IIoT Application Development with Node-RED, RESTful APIs and MQTT".
See the complete conference agenda and register to attend.
IoT Solutions World Congress – Barcelona, Spain

Opto 22 confirmed it will be a part of the IoT Solutions World Congress in Barcelona, Spain, October 3-5, 2017. Considered the leading global event on the Internet of Things (IoT), it will once again take place at the Fira Gran Via revue. The IoT Solutions World Congress is an international expo with attendance of over 8,000 visitors, focused on IoT solutions in manufacturing, healthcare, transportation, energy, innovation and technology.
Opto 22, along with local distributor and integrator Optomation Systems, will be demonstrating IoT product solutions and the latest hardware from the Opto 22 product line.
Continue to check back for more event information as it becomes available.