I'm ready to sign up for the free trial.
Wait. First tell me more about groov.
OK.
In a nutshell, groov is a browser-based software application for building and using mobile operator interfaces for your automation, control, or monitoring systems.
It's like creating an app that includes just what you want it to, no more and no less, so you and your authorized users can monitor and control sensors, equipment, systems, and data, from anywhere.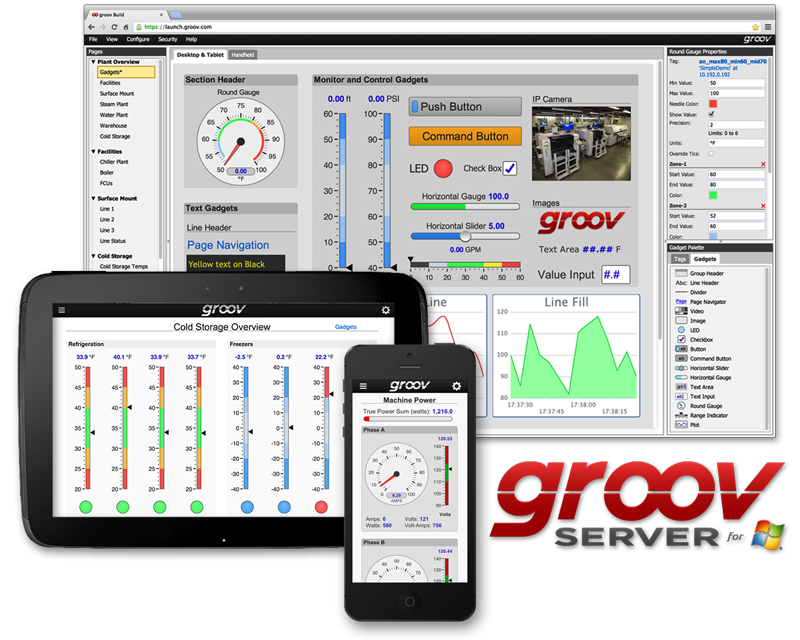 What's so different about groov?
Unlike other mobile interface tools in the automation industry, groov is built strictly on non-proprietary standards including OPC, HTML5, CSS3, SVG, and a RESTful API. These are standards widely used in industrial automation and Internet communications. What they give groov—and you—is flexibility.
What it talks to.
You can use
groov
to build an interface for a wide variety of control systems and equipment, building automation systems, online services, software, and more.
Why? Because groov talks directly to Modbus/TCP devices and SNAP PAC controllers with no intermediary servers or protocol converters required. Because you can access data from databases and software in the groov Data Store using groov's RESTful API. Because groov is an OPC UA client, so with a communications platform like KEPServerEX, which includes an OPC UA server, groov can talk to any system you have a driver for.
Where you build it.
You can build your
groov
interface on any brand computer with a web browser—Chrome, Firefox, Internet Explorer, Safari. Windows, Mac, Linux: use what you want.
Why? Because groov is based on HTML5 and CSS3, standards shared by these browsers regardless of the computer they're used on. No other software is needed to build your interface.
What you use it on. 
You can use the interface you build on virtually any device with a web browser, regardless of its brand, from an Apple iPod touch all the way up to a Samsung web-enabled HDTV. Android, iOS, Windows: it doesn't matter.
Why? Because groov uses the browser standards that work on all these brands. See list of compatible devices.
Brands and sizes.
The elements in your interface—controls, indicators, labels, trends, even live video—scale automatically to match the size of the device you're using it on. You can clearly see and use them.
Why? Because groov's touchscreen-ready gadgets are all designed on SVG (scalable vector graphics) technology, so they scale gracefully to match any screen size.
All logos and product names used herein are trademarks or registered trademarks of their respective companies or organizations.
What's the free trial?
We want you to see how simple it is to monitor your system with groov.
The free trial isn't a demo version; it's the fully featured groov.
Explore the demo project, try out gadgets with the Data Simulator, and take as long as you like to build your interface. Once you switch to groov View and start using what you've built, you have two hours to play with it before the free trial runs out. If that's not long enough, you can restart groov Server and play some more.
Then when you buy groov, all you have to do is apply the license. The project you built during the free trial is still there, ready to go.
Where did groov come from?
groov comes from automation manufacturer Opto 22. We've been manufacturing controllers, I/O, control software, and solid state relays for over 40 years.

All our products are manufactured and supported in the U.S.A. at our Temecula, California, headquarters.
The company has a reputation for high-quality products and a worldwide network of distributors. We guarantee most I/O and SSRs for life. Like all our products, groov is built on open standards and includes free product support. More about Opto 22.
Still have questions?
Feel free to browse around the site. And take a look at our groov Q&A, which goes into more detail.
Contact us. We're glad to help, and Pre-sales Engineering is free.
Phone: 800-321-6786 (toll-free in the U.S. and Canada) or 1+951-695-3000
Email: systemseng@opto22.com
When you're ready, get your groov.